Poverty causes major social tensions and threatens to divide a nation because of the issue of inequalities and stimulate challenges in the society and within communities. 30 years of prolonging war and natural disasters such as Tsunami, inefficiencies in the economic policies, government instability, power struggle, and inequality in the salary split with government institutions rules and regulations have pushed the country into severe poverty and created divisions between the societies and made the living standard challenging for many people. Many were internally displaced and became homeless because of this. Sadly, it is mainly Children who are deeply affected due to this condition and many children failed access to basic education.
As per the latest census in 2012/13, 6.7% of the total population of Sri Lanka lives below the national poverty line, 5% unemployment rate an estimated 900,000 children aged 5 to 17 are exploited for child labour and 340,000 children grow up without one or both parents and one of four Sri Lankans is undernourished, and people still live in harsh socioeconomic conditions. As depicted in image 1 a typical household size is in Sri Lanka 4 persons the lowest decile is surviving on less than 28 pence per person per day, even median income is less than £1.20 per person per day, mainly in Northern and Eastern Province. (Tamil Sangam). Improper education, mental illness, poor health, increased crime rates, low social mobility, loss of hope and happiness are some key side effects of poverty. (SOS-Children's Villages in Sri Lanka, 2017).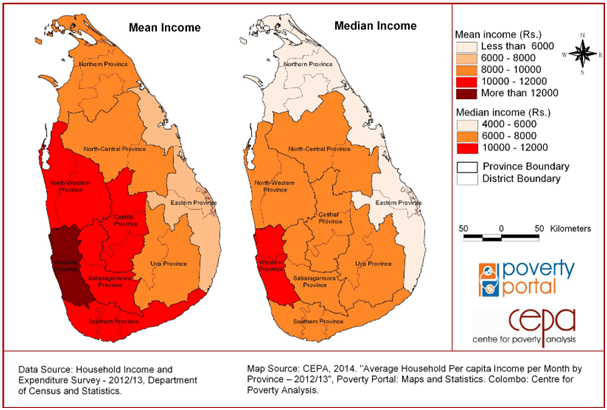 There are about 24 districts and 9 regions in Sri Lanka, of which Northern and Eastern province followed by Uva and central province are severely affected with poverty. The market size of each district has been further discussed in the market size section.
While Sri Lanka has made a considerable progress pertaining to most of the poverty issues at national level, there are still insurmountable regional variations, which need the attention of regional planners and policy makers. There are many charitable foundations that support to eradicate poverty from the country but there are many gaps in the existing services. But many foundations focus only on the areas where there are networks and relationships exist not necessarily with an aim of supporting all the affected districts. There are about 65 local supporters and majority of them are centred only in Colombo. There is a lack of transparency with regard to the projects undertaken and donations spent. Out dated web site with old pictures. Lack of marketing and promotional activities. International founders never visit the districts in Sri Lanka in person to understand the real situation. Sponsoring only one child to provide a better future. Minimum donation to reward ratio if the fund is raised in Rs and spent in Rs. The operating model adopted by many existing charities does not create sustainability or grant independence to the society but encourages the community to become more dependent on the providers. Due to these gaps poverty still prevails in the country.